In an article written by Melissa Allison on zillow.com, Zillow research has found that student loan debt has had a minor effect on homeownership rates.  If you have a large amount of student loans, but want to buy a home, contact The Agency today.  We can get you in touch with the right lender for your specific situation and work to get you the best deal possible.
A few highlights from the article are below.
"Despite widespread concern that student debt hinders home buying, new research from Zillow shows that as long as people complete at least a four-year degree, the effect of student debt on their chances of owning a home is negligible.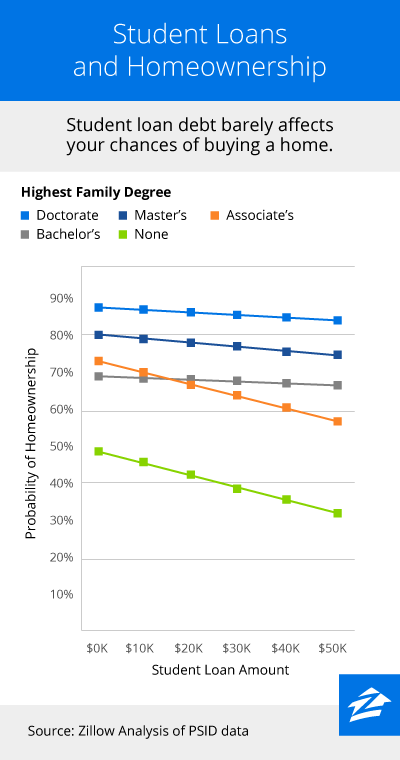 There's a 70-percent chance that people with medical, law and doctoral degrees will own a home. That likelihood is 66 percent with master's degrees, 61 percent with bachelor's degrees, and 56 percent with associate's degrees.
A distant fifth are people with no degree at all; they own their homes just 30 percent of the time. If they have student debt – but never graduated – their chances of owning a home are even lower.
Sensitivity to student debt is considerably higher for people who have only an associate's degree or no college degree at all, according to a Zillow analysis of the 2013 Panel Study of Income Dynamics.
"As total student debt continues rising, there is general apprehension that this trend may prevent millennials from buying homes," said Zillow Chief Economist Svenja Gudell.
"But our research helps put these fears to rest to some degree, because as long as accumulating that debt actually does result in getting a degree, debt itself is not quite the obstacle to homeownership that conventional wisdom makes it out to be," Gudell continues. "Certainly, it's better to accumulate debt and finish your degree than it is to accumulate debt but have nothing to show for it in the end. In other words, if eventually owning a home is a priority for you and you're currently pursuing higher education: Don't be a fool, stay in school."
Someone with a law or doctoral degree and $40,000 in student loans has an 84-percent chance of owning a home. Carrying that same degree but being $100,000 in debt decreases the probability to an 80-percent chance."